30.05.2023 9:24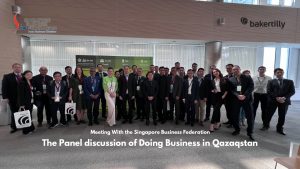 On May 23, 2023, in the city of Astana, Baker Tilly Qazaqstan organized a panel discussion in collaboration with the Singapore Business Federation to familiarize Singaporean investors with Kazakhstani entrepreneurs. The event provided a platform for exchanging ideas and expanding potential business opportunities between the two countries.
The panel discussion, held in a favorable atmosphere, brought together industry experts, experienced entrepreneurs, and key stakeholders from both Singapore and Kazakhstan. The event aimed to stimulate bilateral trade and investment, showcase the potential for collaboration and growth in the Kazakhstani market.
During the discussion, representatives from Baker Tilly Qazaqstan delivered informative presentations on tax trends, mergers and acquisitions, and the investment climate in Kazakhstan. The purpose of these presentations was to provide valuable information to Singaporean investors, helping them gain a deeper understanding of the business landscape in Kazakhstan and the potential benefits of investing in the country.
Overall, the panel discussion served as a valuable platform for promoting bilateral trade and investment between Singapore and Kazakhstan. By offering Singaporean investors insights into the Kazakhstani business environment and the expertise of Baker Tilly Qazaqstan specialists, the event aimed to foster mutually beneficial collaboration and strengthen economic ties between the two countries.