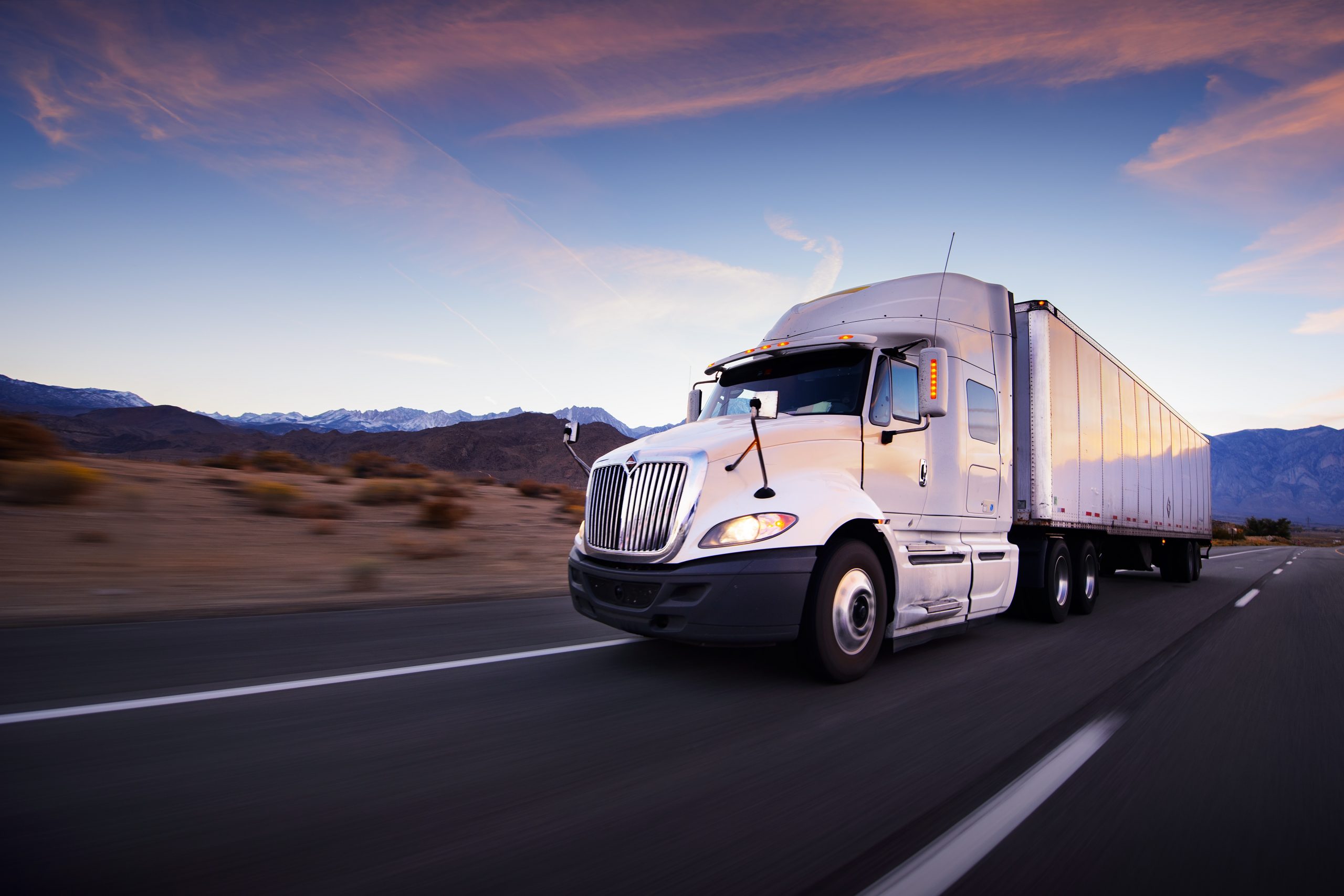 16.05.2022 13:01
The logistics industry is the circulatory system of the economy providing timely goods shipment, starting with raw materials and equipment, and moving along the production chain to the ultimate consumer
Freight volume in Kazakhstan kept growing in recent years. In 2021, freight transportation by all modes of transport (excluding pipelines) amounted to 4.2 billion tons. The figure grew 1.4% CAGR in the last 5 years, supported by rising e-commerce and higher utilization of the country's transit potential. Total transportation revenue of all modes of transport (excluding pipelines) reached KZT 1.4 trillion (~$3.25 billion), of which 78% was earned from cargo transportation.
Trucks & road transport are the most popular (83%) way of domestic cargo transportation – mainly due to the rapid development of e-commerce and delivery services, as well as growing demand for 3PL services.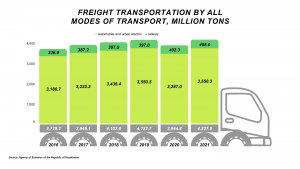 According to Baker Tilly team's research, the size of the e-commerce market in Kazakhstan reached KZT 760 billion (~$1.76 billion) in 2020 and keeps growing. The survey of the largest e-commerce market players demonstrates 84% 5-year CAGR of TOP-5 e-commerce categories with marketplaces outperforming at +196% 5-year CAGR.
We believe that continuous marketplaces' growth and consumer goods delivery from supermarkets will drive domestic logistics services demand.
The logistics sector's revenue is distributed almost evenly across the country's regions. However, if we compare this distribution to the spread of retail trade values and e-commerce values, we will notice substantial gaps in the regional structure with Almaty, Nursultan, and Atyrau dominating the market.
At the same time, e-commerce is 3% of retail trade value in Almaty, which is fairly low, and its share in the other regions (excluding Western Kazakhstan with 5%) is even lower. This fact supports the prospects for growth driven by increasing e-commerce share, especially in the cities where it is currently below 2%. Thus, we expect growing demand for warehouse spaces and logistics services in these regions, as well as in the whole market.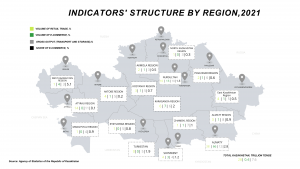 Secondly, logistics and transportation are the sectors turning the transit potential from an ordinary phrase into real figures and opportunities for economic growth
23.8 million tons of cargo were transported in transit through the Republic of Kazakhstan (+4.8% YoY). 88% of transit cargo weight was transported by the railways.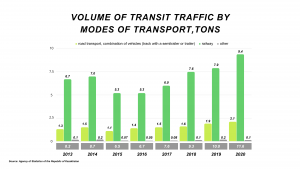 The volume of container traffic reached 1,065.6 million TEUs last year, up 22% YoY. According to rail.kz, 732,000 TEUs were transported along the China-Europe-China route, which is 32% higher than the 2020th figure. Analysts also note that Kazakhstan serves 83% of transit in route of China – Europe – China.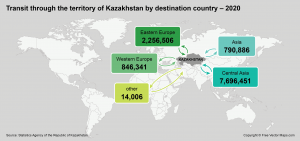 There is a limited number of overland routes from China to Europe, operating within the framework of "Silk way" project. At the same time, China is interested in cutting the delivery cycle to European markets by shifting a part of its cargo to railway transportation instead of sea shipping.
The core routes in this direction are:
1.            Transit through Vladivostok or Krasnoyarsk through the Russian territory;
2.            Transit through Kazakhstan and further through Yekaterinburg (on the territory of Russia);
3.            Transit from Urumchi to port Aktau (Kazakhstan), then by sea to Azerbaijan, and further through Georgia and Turkey to Europe.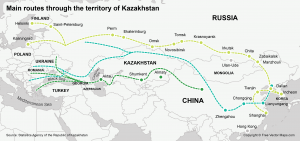 The volume of transit cargo, routing from Asia to Europe through the territory of Kazakhstan reached 2.2 million tons in 2021.
The consequences of military actions in Ukraine disrupted the logistics chains of the whole region: sanctions that have been introduced against Russia and Belarus, suspension of business operations in Russia by a number of large logistics operators, such as Maersk, DSV, and DB Schenker, blocking railway and sea communications – all this led to blocking the first and the second of the listed routes.
Switching cargo shipments to the new routes requires additional time and investment in the expansion of transport capacity and additional CAPEX on vehicles. It can push the transportation and warehousing costs higher, burdening producers and importers and reflecting in the shelf price of goods. However, price inflation is only a part of the problem. Changing delivery terms lengthens the companies' cash cycle, forcing manufacturers to increase the stocks of imported components to sustain sufficient inventory for continuous production and at the same time hindering the exports of finished products.
All these changes dramatically increase the demand for warehousing services and push storage prices even higher.
Kazakh warehousing services market was around 65 billion KZT ($150 million) in 2020, growing at 20% YoY after decreasing for 2 years in a row (-16% and -10% in 2019 and 2018 accordingly). The fresh figures for 2021 have not been published yet, but we expect the growth trend to continue this year. There were 18,922 enterprises were registered in the "Transport and Logistics" sector in Kazakhstan as of April, 1 2022 with 1,186 of these businesses having foreign participants, and 40 partially or completely owned by the state. The number of registered businesses across the logistics vertical increased 5.3% YoY. According to a number of real estate analysts, occupancy rates of warehousing facilities in Kazakhstan reached 90%. At the same time, the market feels a severe deficit of professional warehouses operating in 3PL format, despite the growing share of A-class warehousing facilities.
We expect that the demand for warehousing facilities will keep growing in the short and medium term due to organic reasons, such as the growing e-commerce market, and because of the current market situation of lengthening the companies' cash cycles.
An additional factor supporting the attractiveness of the Kazakh logistics sector will derive from the expected relocation of some businesses from Russia to Kazakhstan will be an additional factor. We expect that some of these companies will be importing goods that are not under sanctions to Kazakhstan with further export to Russia. Moreover, the exit of large consumer companies from the Russian market opens the door to various intermediaries, buying the same products at other markets and importing it from third countries to satisfy the demand of the Russian market.
All factors mentioned make us look positively at the logistics market of Kazakhstan in the short and middle term, and we expect rising investment activity in the sector. The Baker Tilly team is ready to provide professional support to potential investors, including marketing research, investment projects analysis and fundraising. Our employees possess substantial experience in business/assets valuation across a variety of business verticals; buy-side and sell-side M&A advisory from long-list preparation to post-transaction period support.
In addition, our staff will be happy to answer questions and help with relocation, business and asset protection. A team of international experts, who know the intricacies of local legislation is ready to assist in the transfer of business from Russia and Belarus to the countries of Central Asia, and offer restructuring solutions to relocate the business and to eliminate gaps in previously established production and supply chains. Relocation support includes business registration, opening bank accounts, business placement, business/assets acquisition advisory, teams/family relocation and citizenship questions, administrative, accounting and tax advisory and outsourcing.
If you are interested, please contact us at info@bakertilly.kz or at +7 (727) 355 47 57 (ext. 100).
Olga Zagidullina, CFA – Senior Manager at M&A and Research
Ramina Nazyrova, MRICS – Valuation Partner
Zhanylkhan Tulebayeva, Marketing specialist at Baker Tilly Qazaqstan Advisory LLP.